Zion.T Opens Up About Collaboration With G-Dragon And The Story Behind "Complex"
Zion.T's new release "O O" is a buzzworthy album that took a whole lot of work!
On January 31, an exclusive interview with the singer was released on Dingo Music's YouTube channel. In the clip, he discussed the effort put into the album, giving fans a track-by-track summary of each song.
"I really like [to play] 'Overwatch,'" Zion.T joked when asked what he had been up to since his last activities. "To be honest, the album was delayed for two months because of a sinus infection, but because of 'Overwatch,' it was delayed for another two months."
He then began talking about the track "Complex," which he recorded with BIGBANG's G-Dragon.
"When I first heard him, I thought 'You're really going to be okay?' 'Can I really use this?' 'Can I be this blunt?' I honestly had thoughts like that," he began. Zion.T then explained that the song was vulnerable for him because it referred to his battle with insecurity. "I wanted the song to have a cool feel, and G-Dragon was able to give me that."
When discussing the song "Sorry" (his collaboration track with Beenzino), he expressed that the main idea behind the song was "I hate saying sorry, but sorry." He then added that he considers the song an apology to the public.
He ended the interview by speaking out to people who might not like his music. Whether they love it or they hate it, he insisted, "Give the album a listen. Try listening to each song one at a time."
Currently, his comeback album "O O" has seen plenty of love from fans. Both "The Song" and "Complex" have landed number one spots on seven out of eight Korean digital music charts.
G-Dragon mentioned in Zion.T's interview with Ilgan Sports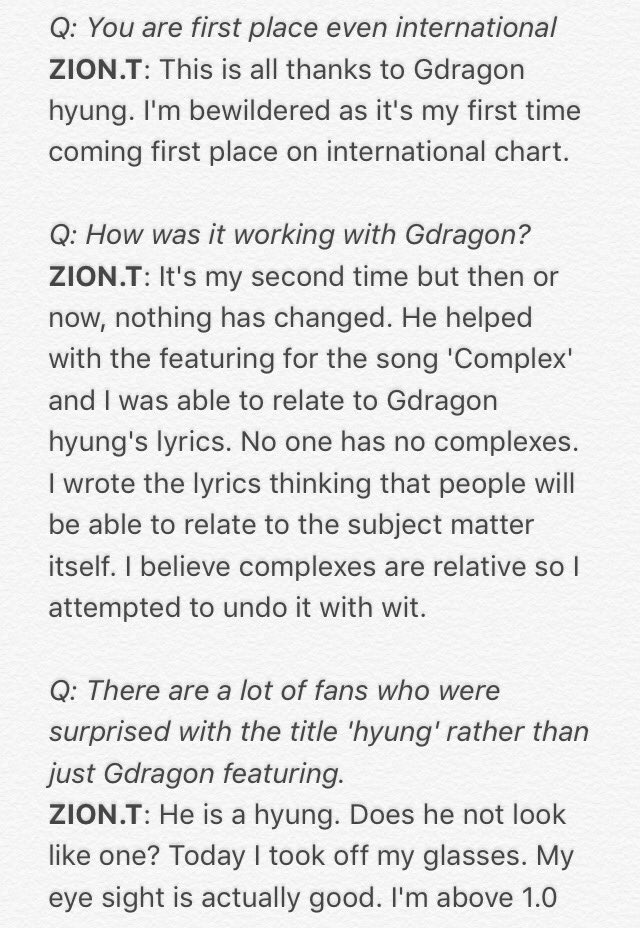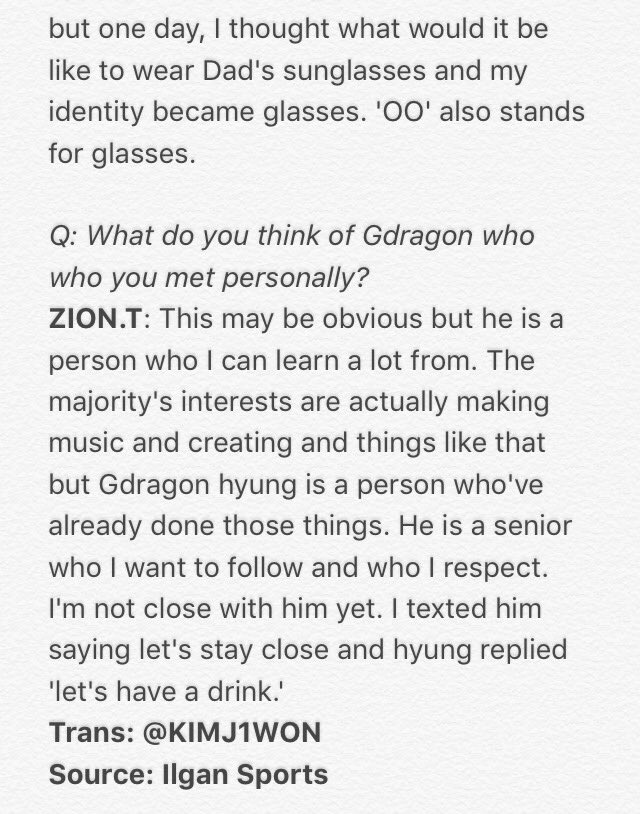 Zion.T "First No.1 on a foreign music chart… All thanks to GD"
Singer Zion.T took his first No.1 on a foreign chart.
Zion.T's new album "OO" is staying in No.1 on the iTunes albums chart of Taiwan, as of February 1 in the morning. That is his first No.1 on a foreign music chart, since his debut. Including No.2 on the iTunes albums chart of Vietnam, Zion.T is staying in high ranks on the iTunes charts of seven countries including Hong Kong, Indonesia, and Philippines. Title track "The Song" is dominating music charts, taking No.1 on the charts of a variety of music-streaming websites in Korea as well. By achieving such a big success on charts, Zion.T is living up to his nickname as the "gangster on music charts".
"Complex", another song included in "OO", also took No.1 on the iTunes chart of Macao and Vietnam. "Complex" is a song featured by BIGBANG's G-DRAGON. In the song, Zion.T and G-DRAGON frankly talk about their complexes and criticize one another, in the form of conversation. Not only "The Song", the title track, but also other songs of Zion.T's new album are enjoying great popularity.
Zion.T talked about his No.1 on a foreign music chart to Daily Sports, through his label. He showed a modest attitude, saying, "It's hard to believe that I took No.1 on a foreign chart. It's all thanks to Jiyong (G-DRAGON)."
Even though Zion.T credited such success to G-DRAGON, he proved his remarkable presence in the music scene with "The Song". Zion.T took the original sound tracks of tvN's drama series "Guardian: The Lonely and Great God" down the charts and totally changed the game on charts by making every song in his new album be ranked in top places. So far, Zion.T has taken No.1 with every song he released, including, "Yanghwa Bridge", "Eat", "No Make Up", etc. That is why he picked up the nickname of the "gangster on music charts".
Zion.T worked especially hard on "OO", as it is his first album since he joined "The Black Label", YG Entertainment's subsidiary label which is led by producer TEDDY, a year ago. So, the album well-displays his unique sentiment and style. A typical love story feels all different when it is sung by Zion.T. His witty expression and sensitivity appeal to many people. Plus, featuring by G-DRAGON and Beenzino made Zion.T's new album all the more special. Music fans are now expecting to see Zion.T's long-run hit.
Credits: soompi.com, @KIMJ1WON, yg-life.com