Releasing a new album after many years, Yoo Hee Yeol shared stories about the production process for his new song Good Bye Sun, Good Bye Moon.
On November 13, Yoo Hee Yeol held a special concert to commemorate the release of Toy′s seventh album Da Capo at the M Concert Hall in Sinsa-dong. Toy is a one-man project led by Yoo Hee Yeol.
On this day, Yoo Hee Yeol talked a little about Akdong Musician′s Lee Su Hyun, who sang the songGoodbye Sun, Goodbye Moon, saying, "She′s the youngest musician that I′ve ever worked with."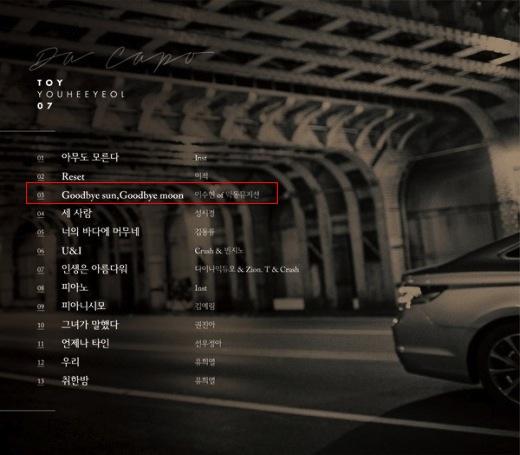 "When I first made this song, I went to Yoon Sang′s recording studio and played the demo. The song′s initial subtitle was about a girl who saves the earth, because I like watching Japanese anime. But once he heard it, Yoon Sang said it sounded like a Christmas song. Then I couldn′t write the lyrics for this song anymore. I let my close junior, Lee Kyu Ho, listen to the song without saying anything, and he also said it sounds like a winter song. Then these fairy tale-like lyrics that I couldn′t have possibly imagined were written and I wondered who could sing this."
"I just couldn′t pick a singer. All the female singers around me were in their 30s. I have always asked Cho Won Sun to sing, but this time around, I worried for a long time in the recording studio," explained Yoo Hee Yeol.
"Then my manager recommended Akdong Musician′s Lee Su Hyun. After I thought about it, there was no one else that could pull of the song′s lyrics. Luckily, I had gotten close with Yang Hyun Suk through SBS′ K-Pop Star. I heard that YG doesn′t do collaborations with artists outside of the company, so I was ready to get rejected, but he willingly okayed my request."
"More than Passionate Hello, I thought [this song] was more deep. I purchased analogue instruments for this song. It was really hard to find them."
Toy′s new album Da Capo is an album release that comes seven years after his last album Thank You. The album includes a total of 13 songs, including Reset, Goodbye Sun, Goodbye Moon, U&I and more. It will be released on November 18.
Source: enewsworld