Tablo: This is the special of specials. The studio is burning up. Welcome, Taeyang!
TaeYang : Hello, this is TaeYang.
Tablo: You win 1st on like every music show! I heard you collect trophies as a hobby these days right?
Taeyang: That's an exaggeration~ I think my fans are liking the music because I spent so much time working on the album. My fans are looking forward to a repackaged album and I'm working on it right now, but keep in mind it took 4 years for this album.
Tablo : CEO Yang! Let TaeYang to release the repackage as soon as possible! in not 4 years but 4 days
Taeyang: It's been so long since I've been on the radio so I'm not sure what I'm supposed to be doing.
About "LIES"
Tablo : From just the piano in the beginning, I get goosebumps.
TaeYang : This song is so meaningful to me and BB too,  helped us become more popular. This was supposed to be GD's solo song, but we recorded it together and a lot of people liked it. I was unsure at first.
Tablo: I used to sing this a lot. A lot of songs that came out after Lies were similar in beat and tempo. Songs followed the beat of Lies for a long time.
About "ONLY LOOK AT ME"
TaeYang : This song was made by Teddy hyung, I can't forget how I felt with this song. This was for GD's solo too.  My concept was a guy who is innocent and doesn't date a girl. So I thought "Can I sing this song?"
About "FANSTATIC BABY"
Taeyang: We had hardships before this song came out. BB/Teddy locked the studio doors for a week to produce this song, didn't go out but just work
About "BAD BOY"
Tablo: I think this song is one of the greatest songs ever. One of the best out of all the songs I've heard in my life. Bigbang's Bad Boy.
TaeYang : This song is in "Alive" album. It's a song that I really like. Let's listen to it ☞ "Bad Boy"
Tablo: When I see you guys sing Bad Boy at concerts, Taeyang is the most excited member!
YB: I think that song just makes me feel excited.
Tablo : Bad Boy is my favorite song in my life. It goes well with your (YB) voice although it's BB's song. I had dessert with Masta Wu and Choice 37 and I told them this song was one of the best songs in the history of music. The song has a vibe that I was into at the time. It makes me happy.
About "EYES, NOSE, LIPS"
Tablo: YG asked me, Eyes,Nose,Lips is good, right?" so I said yes. He said, "That song makes me excited." & confessed his love for the song.
YB : I can't really feel how popular Eyes Nose Lips is, cuz I released it cuz I just wanted to release early
Tablo : You saw Haru's Eyes Nose Lips cover too? Haru can sing the whole Eyes Nose Lips song now
Taeyang: I think Haru's cover is the best one. She's so cute
Fan : My eardrum~ I'm listening to this at street now, my best moment ever !
Q : if you have to take only one person among CEO Yang & Teddy, which one?
TaeYang : This Q is so scary. I will take "CEO yang" among CEO Yang and Teddy, for right now. For right now.
Tablo : How about taking off clothes here for radio?
TaeYang : yea together?
Tablo : Ah… together no
Taeyang: I promoted shirtless a lot because people around me said it is nice good. When there is exciting music I get enthusiastic.
Tablo: Taeyang was taking his shirt off, so I took my shirt off too and stood next to him. There's a pic & if it's spread, my career is over
Taeyang: Your lyrics in the cover are so amazing… the best!
Tablo: You don't have to say those things~ We even saw each other shirtless!
Q : Which song is better, Tablo's Eyes Nose Lips cover & the original song?
YB : I think both are good, but like original more
Tablo : I got wrong on two parts of lyrics on purpose, to make people watch this on Youtube
YB : I knew that
Tablo : The "Youtube view" is important these days. If we sing it perfectly, people would not watch the video
Tablo: We should sing our version of Eyes,Nose,Lips @ YG fam concert!
Taeyang: Yes! We can transition from Tomorrow to Eyes,Nose,Lips~
Tablo : Choose one, fashionista GD & musician GD ?
TaeYang : I think I like musician GD more
Tablo : Choose only one, good appearance & great talent ?
YB : Great talent, good appearance is not so related to me
Q: Married Tablo vs Single Tablo
Taeyang: I like the married Tablo better because of Haru~
Tablo: Of course~
CEO YG VS Musician YG that dances
Taeyang: Hmmm… I would pick CEO YG.. since he really helps me a lot.
Tablo : If TaeYang does a Radio show too, how the radio show title will be? TaeYang's Hot Radio?
Fan : Oppa what are you writing?
TaeYang : I just doodled haha
Q : Who do you think at 1AM?
TaeYang : No one for 1AM.. I should sleep early for music shows now
(Haru came to visit Taeyang during break)
Taeyang: Haru is so pretty. She just keeps getting prettier! Thank you for coming, Haru~!
Tablo : Shinee JongHyung came by too.
TaeYang : Uh, hello ~
Tablo: You know Haru's your fan, right?
Taeyang: When she was little~ haha I thought she switched to GD.
Tablo: She loves your songs now!
Taeyang: I feel like I should make good songs just for Haru. It makes me so happy just to see her sing along to my songs.
TaeYang : Seungri is so good at imitating CEO YG. I keep getting surprised when Seungri imitates him cause I think it's actually CEO YG.
Tablo: I sometimes want to become Bigbang's manager. You guys go to so many places and I'm jealous. I need an excuse to join you guys~
Tablo: Did u reveal the secret abt the female part on Love you to death?
TY: Not officially… It was CL. She sang it & we put the pitch up!
Tablo: I wrote the lyrics to Love you to death, and the female part (CL's part) was written by my wife, Kang Hye Jung.
Taeyang: Ah~ I heard!
Tablo: You were a trainee since you were 13? So practically, you've been a singer for 14 years! Wow, you're my sunbae (senior)!
TaeYang : I was a trainee for 6~7 years.
Tablo : and already 8th year after debuting? 14 years in total
YB: My aunt's childs were going to an acting academy. I went there too, and did YG audition. After I did some work for MV in YG, I said CEO Yang first that I decided to become a singer at an early age. My dad was my superhero & seeing him have a hard time with national problem really shocked me. I thought I should help him by getting successful. I just received the money for bus fare only. I went to the practicing room and came back, as a trainee
Tablo: Contrary to the fancy celebrity life that we see, Taeyang and Jiyong work so hard at the studio everyday. I learn so much from them.
Taeyang: I think I work hard because of Michael Jackson, actually. I really like him and get inspired by him
Tablo: I'm looking forward to Taeyang in his 30s. I can't wait to see the diff styles of music he'll do. Just don't do heavy metal *jokes*
Q : the best moment that you remember in your life as a singer?
TaeYang: The moment I always remember in my head is when we received the EMA awards. It still feels so unreal to me and I'm so grateful.
Tablo : Who is the guy that you like?
Fan : A senior..
Tablo : It's not TaeYang surprisingly..
Fan: The guy I like is kinda like Taeyang oppa~
Tablo: Why? Does he take off his shirt a lot? *jokes*
Fan: He's handsome like Taeyang oppa
Tablo: Tell ur crush that u're someone who talked to Bigbang's Taeyang!!
Fan: I like Taeyang more than him~
Tablo: I knew this would happen
Q: Any plans of acting again?
Taeyang: I used to act when I was little. I still remember I hated watching myself act cuz it was so awkward.
TaeYang : I'm on the step for thinking of solo concert's concept. I'm not saying it right now. Just come and see
TaeYang : There are more than 10 unreleased tracks. Some songs were planned for title songs
Tablo : I even thought "YG doesn't permit the songs which I write lyrics for.." I wrote for so many songs of YB but..
Q: Which is your favorite? Your Eyes,Nose or Lips?
Taeyang: I think I like my lips. My lips are kind of thick. Plus, I sing with them.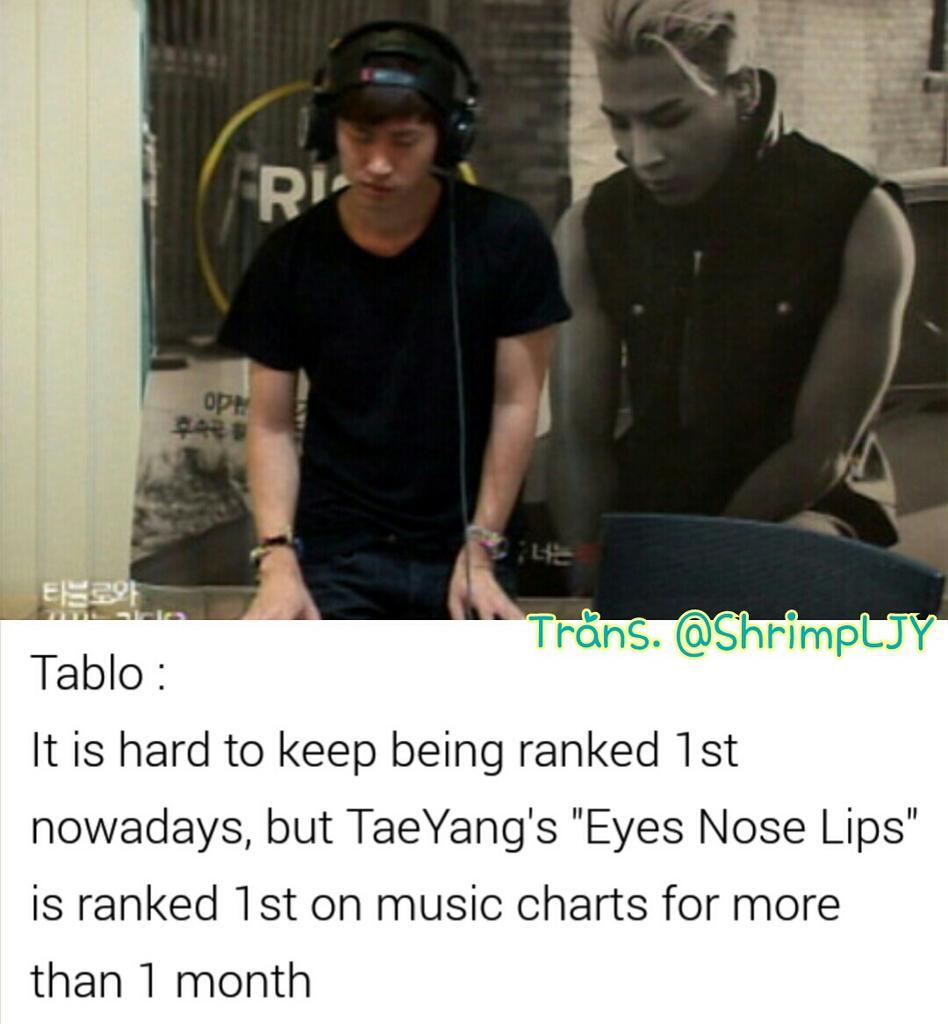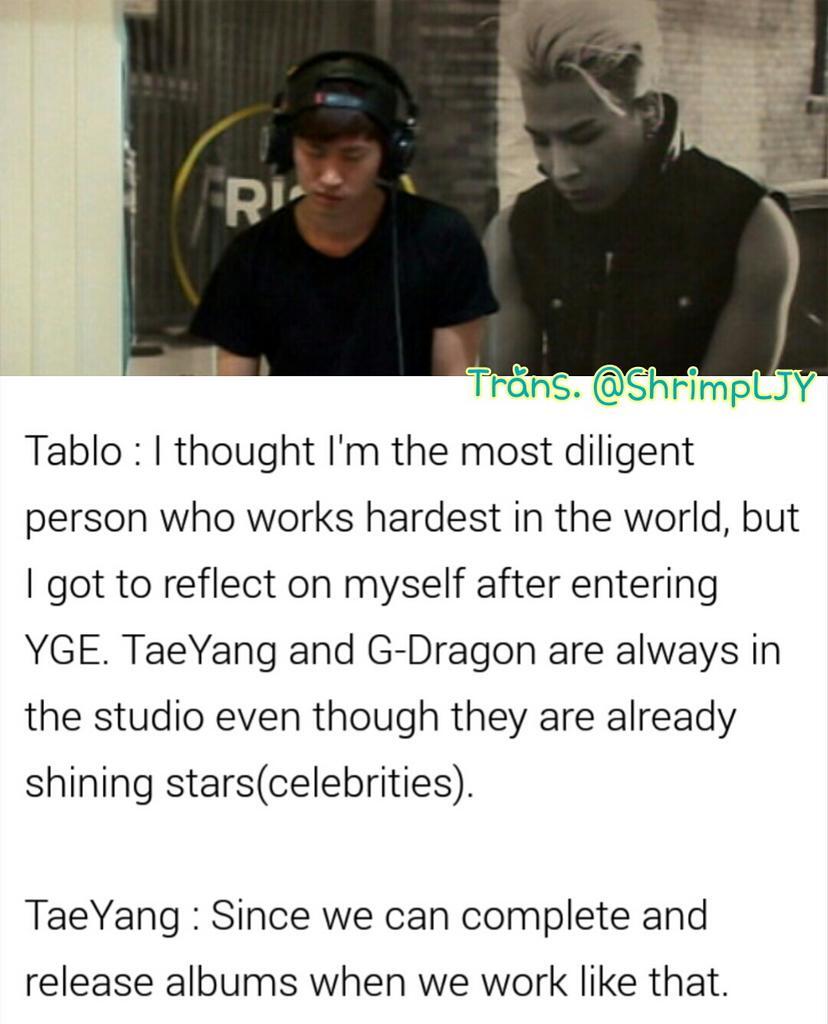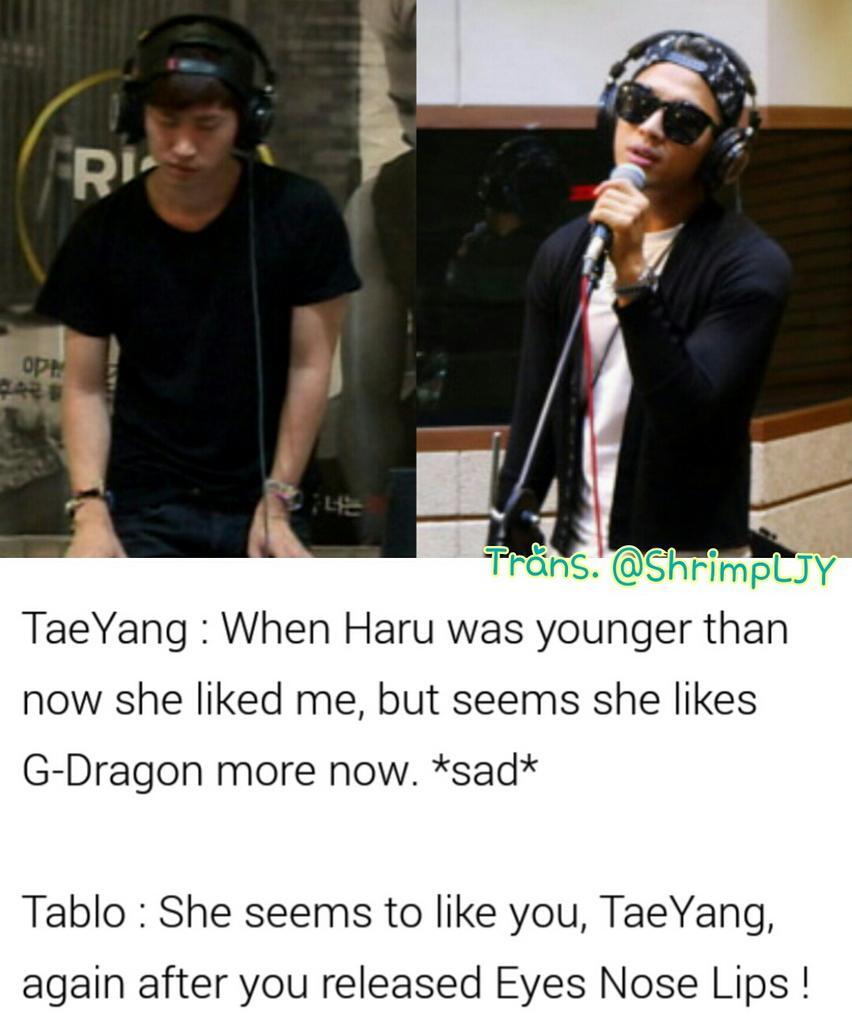 From Tablo's Twitter
"Thank TaeYang's fans who prepared gifts for me too, Thank you !!! #RISE"
Translated by Dana, Jacly, Kristine